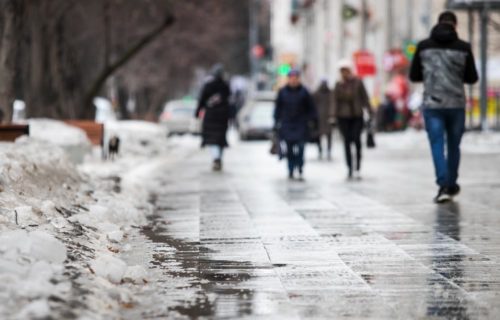 Sidewalk accidents occur every single day here in New York City. Fortunately, in most cases, sidewalk slip and fall accidents do not result in serious injury. However, at times, they do, and they are often caused by unsafe sidewalk conditions. Please continue reading and reach out to our seasoned New York City sidewalk accident lawyer to learn more about sidewalk accidents and how our legal team can help if you've been wrongfully injured in one. Here are some of the questions you may have:
How do most sidewalk accidents happen in New York City?
Sidewalk accidents can happen for a wide variety of reasons, though they are typically due to property owner negligence. In NYC, property owners are responsible for ensuring their sidewalks are safe for pedestrians. When they fail to live up to this responsibility, serious accidents can occur as a result. Just some of the most common causes of sidewalk slip and fall accidents that our firm sees are as follows:
Failure to remove snow, ice, or other weather-related hazards timely
Uneven sidewalks
Misleveled sidewalk flags
Exposed tree roots
Cracked sidewalks
Debris or slippery substances left uncleared
How do I know if I am entitled to financial compensation?
If you are someone who was recently injured in a sidewalk accident, you are most likely wondering whether you are entitled to compensation to help you cover the cost of your medical bills, lost wages, and more. To win a personal injury claim, you and your attorney will have to gather and present sufficient evidence to prove that your injuries were the direct cause of another party's negligence. As long as we can prove this, you should be entitled to compensation. Some of the most useful types of evidence when it comes to proving personal injury claims are pictures of the unsafe sidewalk conditions, surveillance footage of your accident as it happened, witness testimony, and more.
If you have any additional questions about premises liability claims in NYC or you are ready to get started, simply speak with our experienced New York City slip and fall lawyer today. Our firm is ready to bring your personal injury claim at once.
Contact Our New York City Personal Injury Firm
Serious accidents occur in New York City every single day, and if you are an accident victim, it's best you are prepared. Our firm proudly serves clients throughout NYC, including in Brooklyn, Harlem, Manhattan, Queens, and Staten Island. Contact the Law Office of James Trainor, P.C. today to schedule your free initial consultation with our knowledgeable legal team.